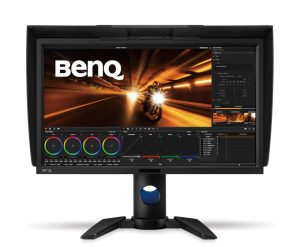 BenQ Becomes the World's First Manufacturer to Offer Portrait Displays' "Verified by Calman" Color Critical Displays
In close collaboration between BenQ and Portrait Displays, the Verified by Calman program ensures each display to be accurate out of the box and true to multiple industry-standard color gamuts.
Portrait Displays' Calman software is the display calibration solution chosen by nearly every video calibrator, and by most professionals in broadcast, production, and post-production, as well as the most popular solution for home video enthusiasts.
"We are proud to be partnering with BenQ and using Calman software to verify that these models deliver a high level of color and image accuracy", said Eric Brumm, President and CEO of Portrait Displays.
"The Verified by Calman mark is only given to the highest-grade of displays meeting the strict requirements of our program," Brumm continued.
BenQ Verified by Calman displays include:
BenQ PD2500Q
BenQ PD2700U
BenQ PD3220U
BenQ PD2710QC
BenQ PV270
BenQ SW240
BenQ SW271
In the Verified by Calman program, displays are brought into the color lab at Portrait Displays and put through a rigorous testing process to determine each display's performance. Only those displays that meet the program's specifications for color accuracy can wear the Verified by Calman mark.
"BenQ's dedication to absolute color performance in professional displays is reinforced by our collaboration with Portrait Displays on industry color standards," said Conway Lee, President of BenQ Corporation. "Verified by Calman provides objective third-party validation of color accuracy and quality to assure superior user experiences for creative professionals."
The Verified by Calman BenQ displays are now available. More information on BenQ displays can be found HERE.
About BenQ Corporation
BenQ is a leading innovator of color critical displays. Professionals in photography, videography and post-production demand consistent, accurate color from their displays. BenQ has a tradition of delivering quality, functional solutions designed for the exacting environment they require.
About Portrait Displays
Portrait Displays provides color display solutions that combine the latest in color science with advanced display control. Portrait Displays ensures that color presents beautifully on screens of all sizes – for global device manufacturers, content creators, and content distributors. Only Portrait Displays upholds color quality every step of the way, from the creation of the first frame to its appearance on the screen of any device.
Portrait Displays' Calman color calibration software is the most popular calibration solution utilized by Hollywood's most respected color professionals. Calman color calibration solutions meet the requirements to deliver a superior viewing experience that is just right.
Portrait Displays is headquartered in Pleasanton, CA with offices in Seattle, and a presence across Europe, Taiwan, China, Japan, and Korea. Portrait Displays is an Intel Capital Portfolio company. With decades of experience in color science and display technology, Portrait Displays is taking the lead in inventing a more colorful digital future.
For additional information contact:
Portrait Displays
marketing@portrait.com