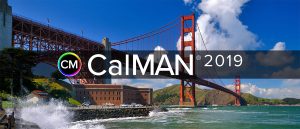 Calman 2019 Color Calibration Solutions Available Now
Calman color calibration solutions are utilized by Hollywood's most recognized color professionals to ensure that content is viewed exactly as intended. Calman calibration solutions are custom-tailored to provide all of the necessary tools to deliver extremely-accurate color calibrations on all types of display technologies in a multitude of color critical environments.
Color professionals utilizing Calman 2019 will enjoy increased hardware support for 2019 models from leading manufacturers such as Canon, Dolby, Epson, FSI, LG, Panasonic, Samsung, and Sony. Additionally, professional users of Calman have access to updated calibration features, workflows, and measurement device support.
Alongside the release of Portrait's professional color calibration solutions, such as Calman Ultimate, Video Pro, and Studio, Calman Home is now available for home theater consumers wanting to calibrate the TV in their household.
Calman Home provides consumers with the ability to utilize the same tools as Hollywood's most-respected color professionals, but in a more consumer-friendly approach. Close attention was paid to ensure that the most-utilized features were included in each Calman Home version, and many advanced-level features were streamlined, further simplifying the calibration process. Calman Home has four versions available that support the latest offerings from LG, Panasonic, Samsung, and Sony.
Calman 2019 color calibration solutions are available for download now. To purchase or learn more about Calman color calibration solutions, please click HERE, or contact one of our worldwide sales partners. To update to Calman 2019, please click HERE.
About Portrait Displays
Portrait Displays provides color display solutions that combine the latest in color science with advanced display control. Portrait Displays ensures that color presents beautifully on screens of all sizes – for global device manufacturers, content creators, and content distributors. Only Portrait Displays upholds color quality every step of the way, from the creation of the first frame to its appearance on the screen of any device.
Portrait Displays' Calman color calibration software is the most popular calibration solution utilized by Hollywood's most respected color professionals. Calman color calibration solutions meet the requirements to deliver a superior viewing experience that is just right.
Portrait Displays is headquartered in Pleasanton, CA with offices in Seattle, and a presence across Europe, Taiwan, China, Japan, and Korea. Portrait Displays is an Intel Capital Portfolio company. With decades of experience in color science and display technology, Portrait Displays is taking the lead in inventing a more colorful digital future.
For additional information contact:
Portrait Displays
marketing@portrait.com