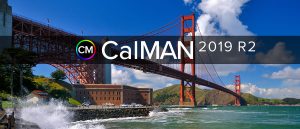 Calman 2019 R2 Color Calibration Software Available Now
Calman software is utilized by leading color professionals and device manufacturers for tasks such as color calibration, verification, and validation of a display's performance. This marks the second release of Calman 2019. With a multitude of updates included in this release, Calman 2019 R2 continues to set the benchmark against which color calibration software is measured.
As display and device manufacturers roll out new hardware, Calman software is continually updated for all license levels, and every license level is carefully crafted to support specific hardware requirements. Support for hardware from BenQ, EIZO, Konica Minolta, and Samsung represent hardware additions users will see in Calman 2019 R2. To view the supported hardware updates specific to each license level of Calman 2019 R2, click HERE.
Calman 2019 R2 includes improved accuracy when creating three-dimensional look-up tables (3D LUTs). These updates can be found on hardware available from Canon, FSI, Konvision, madVR, Ruige, as well as the Calman Cube Generator. 3D LUTs are the most advanced method for correcting a display's color accuracy. Color professionals and display manufacturers alike rely on 3D LUTs to create pin-point accurate color calibrations for the most demanding environments where color accuracy is a top-priority.
A complete overhaul of calibration workflows has been included in Calman 2019 R2. Portrait's focus was improving the overall user experience while conducting color calibrations. Workflows have been categorized to ensure that finding the desired calibration workflow is quick and easy. Portrait has also updated each workflow to make use of software enhancements and to integrate the latest color science.
A new meter profiling workflow has been added. This new workflow provides users the ability to create and validate meter profiles in one easy-to-follow workflow.
Reporting has also been updated. Data collection for reporting has been standardized to create a more reliable and accurate reporting interface.
In January 2019, the International Telecommunications Union (ITU) released Recommendation ITU-R BT.2124, which defines the new metric, DEITP, as the new standard for evaluating perceptual color differences. DEITP was introduced in the first release of Calman 2019, but now is easily accessible via a new drop-down menu in professional calibration workflows included in Calman 2019 R2.
Portrait Displays has been investigating the differences between DEITP and the commonly used DE2000 metric to help users transition to using the new metric. "DEITP has been proven in recent visual research to be a more consistent predictor of color differences over the commonly used DE2000, especially for high dynamic range (HDR) and wide color gamut (WCG) display technologies. The two metrics have significant differences in how they model the human visual system, which results in notably different predictions of visual color differences," said Catherine Meininger, Color Scientist at Portrait Displays.
"You can expect DEITP to produce higher numerical values than DE2000, and by consequence, predict larger perceptual differences than DE2000. While it is true that DEITP can overpredict color differences, it is also highly likely that DE2000 has been underpredicting color differences, especially for HDR and WCG scenarios," continued Meininger.
Catherine Meininger and Tyler Pruitt of Portrait Displays will be presenting a detailed comparison of DEITP and DE2000 at the Society of Motion Picture and Television Engineers (SMPTE) 2019 Annual Technical Conference in Los Angeles, CA. The presentation will be recorded and distributed by SMPTE at a later date.
Calman 2019 R2 is available for download today. To purchase or learn more about Calman color calibration software, please click HERE. For existing users, or to update your current version to Calman 2019 R2, please visit Portraits' download section HERE.
About Portrait Displays
Portrait Displays provides color display solutions that combine the latest in color science with advanced display control. Portrait Displays ensures that color presents beautifully on screens of all sizes – for global device manufacturers, content creators, and content distributors. Only Portrait Displays upholds color quality every step of the way, from the creation of the first frame to its appearance on the screen of any device.
Portrait Displays' Calman color calibration software is the most popular calibration solution utilized by Hollywood's most respected color professionals. Calman color calibration solutions meet the requirements to deliver a superior viewing experience that is just right.
Portrait Displays is headquartered in Pleasanton, CA with an office in Edmonds, WA and a presence across Europe, Taiwan, China, Japan, and Korea. Portrait Displays is an Intel Capital Portfolio company. With decades of experience in color science and display technology, Portrait Displays is taking the lead in inventing a more colorful digital future.
For additional information contact
Portrait Displays
Marketing@portrait.com