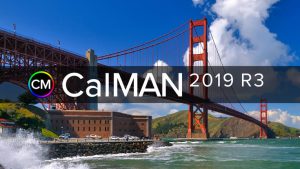 Calman 2019 R3 Color Calibration Software Available Now
This marks the third release of Calman 2019 which includes updates to supported hardware, new C6HDR2000 colorimeter EDRs, calibration workflows, report updates, and continued 3D LUT improvements.
Calman 2019 R3 includes updates to supported hardware across every license level. Support for hardware from Colorimetry Research, Datacolor, Dell, LG, and X-Rite are included in Calman 2019 R3. Each license level of Calman 2019 R3 has been examined to ensure that supported hardware closely matches the needs for professionals and home users alike. To view supported hardware updates specific to each license level of Calman 2019 R3, click HERE and navigate to the current release notes for the software you are interested in.
Within Calman 2019 R3, the Portrait Displays C6 HDR2000 has been upgraded and now includes a multitude of new meter modes (EDRs) from leading display manufacturers. C6 HDR2000 owners will see new meter modes for Acer, ASUS, Canon, Dell, EIZO, and Flanders Scientific. These EDRs provide the most accurate measurements for these displays short of creating a custom meter profile using a reference spectroradiometer.
Calman 2019 R3 continues to push overall usability of the software with a focus on calibration data reporting. All workflows included in Calman that have reportable data are now linked to the appropriate Calman report(s). This significantly improves creating and selecting the correct report. Dynamic reports for the SDR and HDR Toolkits (Analysis section) are a new addition to Calman 2019 R3. These reports adapt based on user selections in the workflow.
Calman 2019 R3 continues to add improvements to three-dimensional look-up tables (3D LUTs) when utilized in a color calibration. A new fixed grid method (93, 173 and 213) has been added to provide an additional option when creating a 3D LUT. This new feature addresses thermal shifts in certain display technologies.
Along with the release of Calman 2019 R3, an updated version of Client3 for Windows is now available. Client3 for Windows has been updated to include HDR pattern generation for monitor validation. Also included in this update to Client3 for Windows is a new bypass mode. Client3's bypass mode provides users the ability to measure a system exactly as it was shipped from the manufacturer. To learn more about HDR pattern generation in Client3 for Windows, click HERE.
Calman 2019 R3 and Client3 for Windows is available for download today. To purchase or learn more about Calman color calibration software, please click HERE. For existing Calman users, or to update your current version to Calman 2019 R3, please visit Portrait's download section HERE.
About Portrait Displays
Portrait Displays provides color display solutions that combine the latest in color science with advanced display control. Portrait Displays ensures that color presents beautifully on screens of all sizes – for global device manufacturers, content creators, and content distributors. Only Portrait Displays upholds color quality every step of the way, from the creation of the first frame to its appearance on the screen of any device.
Portrait Displays' Calman color calibration software is the most popular calibration solution utilized by Hollywood's most respected color professionals. Calman color calibration solutions meet the requirements to deliver a superior viewing experience that is just right.
Portrait Displays is headquartered in Pleasanton, CA with an office in Edmonds, WA and a presence across Europe, Taiwan, China, Japan, and Korea. Portrait Displays is an Intel Capital Portfolio company. With decades of experience in color science and display technology, Portrait Displays is taking the lead in inventing a more colorful digital future.
For additional information contact:
Portrait Displays, Inc.
Marketing@portrait.com