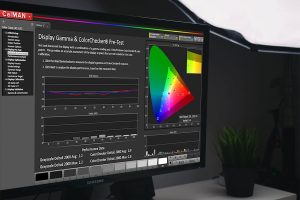 Calman Home – Lowering the Price of Home Calibration Software
Calman Home will be released alongside the broad release of Calman 2019 professional calibration solutions in April. With Calman Home, consumers will have a simpler, lower-cost option to calibrate the TV in their household.
Color calibration delivers an exceptional home cinema experience with optimized color, allowing consumers to view films, TV shows, and other media just as the creator intended, and to choose color settings designed for different viewing activities and environments.
Initially, 4 versions of Calman Home will be released, each priced at $145.00 USD, with more versions to follow. The first versions of Calman Home include:
Calman Home for LG
Calman Home for Panasonic
Calman Home for Samsung
Calman Home for Sony
Each version of Calman Home supports AutoCal for a specific TV manufacturer listed above. Consumers will have the ability to purchase a color calibration solution that is specific to the TV in their household. AutoCal is Portrait Displays' award-winning calibration feature providing consumers the ability to easily calibrate their TVs for their specific environment and viewing preferences. Additionally, every Calman Home version provides the ability to conduct manual calibrations for TVs that may not support AutoCal.
Calman Home comes with 1 full year of updates, ensuring that each user gets the best results for their selected TV platform.
Calman Home offers a simplified user experience that will produce excellent calibration results. Close attention was paid to ensure that the most utilized features were included in each Calman Home version and many advanced level features were streamlined, further simplifying the calibration process.
Calman 2019 professional calibration solutions and Calman Home are scheduled to release in April 2019. More information on the newest features and hardware support will be announced in the coming month.
About Portrait Displays
Portrait Displays provides color display solutions that combine the latest in color science with advanced display control. Portrait Displays ensures that color presents beautifully on screens of all sizes – for global device manufacturers, content creators, and content distributors. Only Portrait Displays upholds color quality every step of the way, from the creation of the first frame to its appearance on the screen of any device.
Portrait Displays' Calman color calibration software is the most popular calibration solution utilized by Hollywood's most respected color professionals. Calman color calibration solutions meet the requirements to deliver a superior viewing experience that is just right.
Portrait Displays is headquartered in Pleasanton, CA with offices in Seattle, and a presence across Europe, Taiwan, China, Japan, and Korea. Portrait Displays is an Intel Capital Portfolio company. With decades of experience in color science and display technology, Portrait Displays is taking the lead in inventing a more colorful digital future.
For additional information contact:
Portrait Displays
marketing@portrait.com