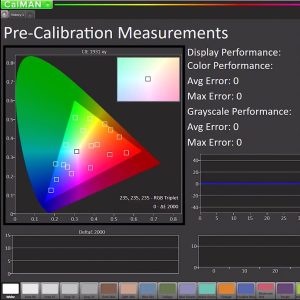 Coming Soon! Calman Home Color Calibration Solutions
Calman Home features AutoCal support at a more affordable price. With AutoCal, calibrations take less time and are far more consistent. Each version of Calman Home supports TVs from a specific manufacturer.
Calman Home provides consumers the ability to more easily calibrate their TVs for their specific environment and viewing preferences. Consumers can now enjoy films, TV shows, and other media with best-in-class picture quality based on the latest in color science and display technology.
Each Calman Home version features a workflow optimized for accomplishing its one specific goal. "Calman is an extremely powerful collection of calibration capabilities," said Jason Ramirez, Calman Senior Product Manager at Portrait Displays. "Calman Home calibration solutions strip away the complexity and presents just what is needed to conduct a color calibration," Ramirez continued.
The recent announcement of built-in pattern generators in the upcoming 2019 LG and Panasonic TVs further reduces the cost of calibration. With a built-in pattern generator, consumers no longer need to purchase an external device to create video test patterns. These technological advancements by LG and Panasonic paired with Calman Home offer an extremely low-cost solution for color calibration.
"Portrait Displays recognizes that consumer color standards are becoming increasingly sophisticated," said Eric Brumm, President and CEO of Portrait Displays. "We are now able to offer consumers calibration solutions that are lower in cost, specific to their needs, and provide the ability to create fantastic calibration results at a professional level," Brumm continued.
Calman Home will be released soon. More info will be available as we get closer to launch. Follow us on social media to be the first to know when these products are available for purchase.
About Portrait Displays
Portrait Displays provides color display solutions that combine the latest in color science with advanced display control. Portrait Displays ensures that color presents beautifully on screens of all sizes – for global device manufacturers, content creators, and content distributors. Only Portrait Displays upholds color quality every step of the way, from the creation of the first frame to its appearance on the screen of any device.
Portrait Displays' Calman color calibration software is the most popular calibration solution utilized by Hollywood's most respected color professionals. Calman color calibration solutions meet the requirements to deliver a superior viewing experience that is just right.
Portrait Displays is headquartered in Pleasanton, CA with offices in Seattle, and a presence across Europe, Taiwan, China, Japan, and Korea. Portrait Displays is an Intel Capital Portfolio company. With decades of experience in color science and display technology, Portrait Displays is taking the lead in inventing a more colorful digital future.
For additional information contact:
Portrait Displays
marketing@portrait.com