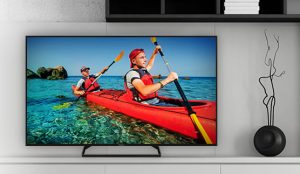 Panasonic and Portrait Displays Announce 2018 Collaboration
Panasonic and Portrait Displays are presenting and demonstrating their collaboration during Panasonic's 2018 Convention, as well as celebrating Panasonic's 100th Anniversary, beginning today.
​Panasonic's latest OLED TV models support Portrait Displays' Calman® by SpectraCal® software and are the world's first TV models recognized with the "Calman Ready" logo. This ensures that Panasonic TVs work perfectly with Portrait Displays' Calman software.
To improve the already outstanding image quality, Panasonic added several calibration options to its TVs. For example, the color management system now allows the user to increase the interval of calibration steps between the darkest points of the luminance scale. This results in better optimization of the transition from black to dark colors in the shadow area of the image. The latest OLED models, FZ950 and FZ800, support ISF (Imaging Science Foundation) settings and features new calibration controls for the 5% and – for the first time in this industry – 2.5% luminance ranges. With this technical innovation in the calibration domain, color transitions from pure black to the brightest colors can be better controlled.
These new calibration points are now supported by Portrait Displays' Calman software with AutoCal. AutoCal allows calibrations in just a few minutes, without previous training. Before AutoCal, calibration was a time-consuming process requiring trained personnel. In addition to the tremendous decrease in calibration time and training costs, AutoCal also delivers constant and reliable calibration results.
Calman with AutoCal was first demonstrated at the Panasonic Convention in 2011. That occasion marked a milestone in the perfection of image quality. Since then, Panasonic engineers have closely collaborated with Portrait Displays to ensure excellent calibration results with AutoCal in the new generation of OLED TVs.
"Using Wi-Fi or Ethernet, you simply connect Calman on your computer to the Panasonic television and let Calman's AutoCal make your picture perfect," said Martin Fishman, Co-CEO of Portrait Displays.
In 2018, Panasonic is the world's first TV manufacturer whose OLED TVs are recognized with the "Calman Ready" logo. The "Calman Ready" program is the viewer's assurance that the manufacturer has worked with Portrait Displays to deliver excellent auto calibration results.
"Panasonic is very proud to be the first manufacturer being recognized with the 'Calman Ready' logo", says Dirk Schulze, Head of Marketing TV/Home AV at Panasonic Germany."
"We are pleased to recognize Panasonic's long-standing commitment to picture quality with this "Calman Ready" logo," Fishman said.
The Calman auto calibration supports the four new 2018 OLED TVs from Panasonic and will be demonstrated for the first time at the Panasonic Convention 2018. The latest Portrait Displays' Calman software will be available when the Panasonic TVs are released.
About Portrait Displays
Portrait Displays provides color display solutions that combine the latest in color science with advanced display control. Portrait Displays ensures that color presents beautifully on screens of all sizes – for global device manufacturers, content creators, and content distributors. Only Portrait Displays upholds color quality every step of the way, from the creation of the first frame to its appearance on the screen of any device.
Portrait Displays' Calman color calibration software is the most popular calibration solution utilized by Hollywood's most respected color professionals. Calman color calibration solutions meet the requirements to deliver a superior viewing experience that is just right.
Portrait Displays is headquartered in Pleasanton, CA with offices in Seattle, and a presence across Europe, Taiwan, China, Japan, and Korea. Portrait Displays is an Intel Capital Portfolio company. With decades of experience in color science and display technology, Portrait Displays is taking the lead in inventing a more colorful digital future.
For additional information contact:
Portrait Displays
marketing@portrait.com