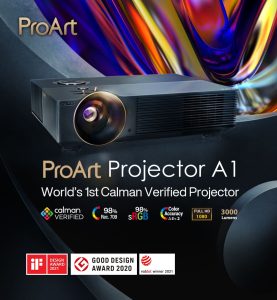 Portrait Displays and ASUS Announce World's First Calman Verified Projector
Creators, designers, students, and professionals alike will now have access to easy color management and impeccable color accuracy within their creative spaces using the Calman Verified ASUS ProArt Projector A1. As a Calman Verified product, the ASUS ProArt Projector A1 comes pre-calibrated for a Delta E < 2 color difference. A tangible Calman Verified report accompanies each projector to authenticate that the product has been calibrated to the highest standards.
"The ASUS ProArt Projector A1 will meet the latest technical color specifications and international standards, delivering a brilliant lens to living room experience," explained Marcel Gonska, VP of Marketing, Portrait Displays. "By ensuring that each projector is Calman Verified, consumers and color professionals can expect excellent color straight out of the box."
"We're honored to continue our partnership with Portrait Displays and its peerless color-calibration technology as we unveil the new ASUS ProArt projector line-up. This alliance strives to improve the creative workflow by offering the highest standards and color accuracy to ensure creators have the best tools to bring their ideas to life," said Vincent Chiou, Corporate Vice President and General Manager of Display Business Unit, ASUS.
In addition to coming pre-calibrated for a Delta E < 2 color difference, ASUS ProArt Projector A1 boasts many features including bright FHD visuals via a 3000-lumen LED light source; wireless mirroring for seamless streaming with iOS, Android and Windows 10 device support; coverage of 98% sRGB and BT.709 color spaces; a wide range of connectivity options; and versatile controls. It includes 2D keystone correction and four-corner adjustment, plus a 1.2x zoom ratio for projecting in confined spaces. 2D keystone correction provides adjustments to achieve perfectly rectangular images, while the four-corner adjustment prevents image distortion when the projector is positioned off-center in relation to the projection surface.
To learn more about the ASUS ProArt Projector A1, please click here.
About ASUS
ASUS is a multinational company known for the world's best motherboards, PCs, monitors, graphics cards and routers, and driven to become the most-admired innovative leading technology enterprise. With a global workforce that includes more than 5,000 R&D professionals, ASUS leads the industry through cutting-edge design and innovations made to create the most ubiquitous, intelligent, heartfelt and joyful smart life for everyone. Inspired by the In Search of Incredible brand spirit, ASUS won more than 11 prestigious awards every day in 2018 and ranked as one of Forbes' Global 2000 Top Regarded Companies, Thomson Reuters' Top 100 Global Tech Leaders and Fortune's World's Most Admired Companies.
About Portrait Displays
Portrait Displays provides color display solutions that combine the latest in color science with advanced display control. Portrait Displays ensures that color presents beautifully on screens of all sizes – for global device manufacturers, content creators, and content distributors. Only Portrait Displays upholds color quality every step of the way, from the creation of the first frame to its appearance on the screen of any device.

Portrait Displays' Calman color calibration software is the most popular calibration solution utilized by Hollywood's most respected color professionals. Calman color calibration solutions meet the requirements to deliver a superior viewing experience that is just right.

Portrait Displays is headquartered in Pleasanton, CA with an office in Edmonds, WA and a presence across Europe, Taiwan, China, Japan, and Korea. With decades of experience in color science and display technology, Portrait Displays is taking the lead in inventing a more colorful digital future.

For additional information contact:
Portrait Displays
Marketing@portrait.com