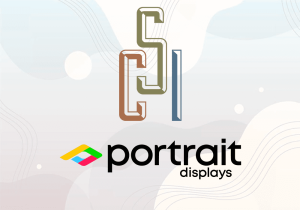 Portrait Displays and Colorist Society Continue to Foster Opportunity for Colorist Community
The last year has presented many obstacles for nearly every industry and required Portrait Displays and Colorist Society to become adaptable in a dynamic landscape by pivoting to remote learning engagements and virtual events like the upcoming Colorist Mixer in December 2021. This, however, in no way hindered the efforts of the two organizations to foster opportunities and increase the education and awareness of the colorist community.

As the scope of colorists continue to expand beyond film and video, so has Colorist Society. The association has begun to pave the way for Chapters to form on a global level, with contributions and backing from Portraits Displays by way of innovative technologies and products, technical support, and panel appearances.
"Colorist Society is pleased to promote the need for better calibration and display matching, and to spread those needs beyond reference displays. We see a future of joint activities with Portrait Displays as our overall goals align," said Kevin Shaw, President, Colorist Society. "We also look forward to implementing more Colorist Society Chapters around the world, including our most recent Colorist Society Hollywood Chapter. This is an A-list, invitation only group made up of exemplarily colorists and thought leaders in the industry that will serve as role models and mentors to our members."

Exciting times are approaching the colorist community, with eyes on AI and machine-learning applications, new virtual set technologies, cloud-based workflows, and evolving display technologies. Portrait Displays and Colorist Society are on the frontline of emerging tech with plans to ensure that members will be kept up to date on the latest in color technology and production tools.
"Since its release earlier this year, Calman's brand new Aurora Color Engine has received immense praise from the most color critical users in the post-production and color grading communities," commented Tyler Pruitt, Technical Evangelist, Portrait Displays. "We're excited to be on the forefront of developing technology and look forward to bringing even more enhancements to the industry in the near future with the support of Colorist Society."

Portrait Displays looks forward to ushering in another exciting year in collaboration with Colorist Society. To learn more about the Colorist Society, please visit https://coloristsociety.com/.
About Colorist Society
Colorist Society is the first professional society devoted exclusively to furthering and honoring the professional achievements of colorists. It is an educational and cultural resource to the colorist community, the entertainment industry, and the public. Membership is open to professional colorists, DITs, telecine operators, color timers, finishers, restoration artists and color scientists. Colorist Society hosts regular meetings as chapters worldwide. It also is a regular participant in industry trade shows and other events. The organization is currently planning an awards competition to honor outstanding achievement to the art and science of color grading.

For additional information:
https://coloristsociety.com/
About Portrait Displays
Portrait Displays provides color display solutions that combine the latest in color science with advanced display control. Portrait Displays ensures that color presents beautifully on screens of all sizes – for global device manufacturers, content creators, and content distributors. Only Portrait Displays upholds color quality every step of the way, from the creation of the first frame to its appearance on the screen of any device.
Portrait Displays' Calman color calibration software is the most popular calibration solution utilized by Hollywood's most respected color professionals. Calman color calibration solutions meet the requirements to deliver a superior viewing experience that is just right.
Portrait Displays is headquartered in Pleasanton, CA with an office in Edmonds, WA and a presence across Europe, Taiwan, China, Japan, and Korea. With decades of experience in color science and display technology, Portrait Displays is taking the lead in inventing a more colorful digital future.
For additional information contact:
Portrait Displays
Marketing@portrait.com