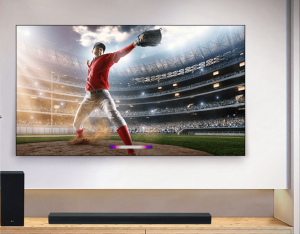 Portrait Displays and LG Electronics® Announce Calibration Support for the 2019 OLED and Select NanoCell TVs
In addition to Calman's AutoCal support, two new calibration features have been added to LG's 2019 TV lineup: customizable High Dynamic Range (HDR) tone mapping and a built-in video test pattern generator.
Display color calibration is the process of fine-tuning the color settings on a television to make the colors more accurate and lifelike, optimizing the video experience and making films, TV shows, and other media match the creator's intent.
The advent of HDR technology has created a dramatic difference in the video experience, providing not only brighter highlights, but more vibrant colors, leading to a feeling of immediacy and immersion for consumers. HDR televisions such as the LG OLED and NanoCell TVs intelligently map the color gamut to provide consumers with the richest and most life-like colors. The 2019 LG TVs are the first televisions to provide customizable HDR tone mapping, and Calman 2019 will take full advantage of the customizability.
Customized tone mapping will provide color professionals, content providers, integrators, installers, and home enthusiasts the ability to control how their TVs render HDR10 content. Consumers will now be able to configure three separate custom HDR tone maps and corresponding roll off points that are tied to specific HDR10 metadata values. Color professionals and content creators will also have the ability to configure their TVs to closely mimic an HDR mastering display, by configuring a PQ hard clip transfer function with this newest feature in Calman.
"Portrait Displays and LG Electronics have worked together very closely to bring the most responsive color palette possible to TV viewers," said Neil Robinson, Senior Director of Strategic Projects at LG Electronics.
"Color enhances every aspect of our lives," said Eric Brumm, Portrait Displays' President and CEO. "It deepens our emotional responses, and the deeper colors in the new HDR televisions bring intensity to the content we watch."
Calman 2019 will also support the built-in video test pattern generator functionality recently announced for the 2019 line of TVs from LG. In the past, an external pattern generator was needed to complete a color calibration. With LG's built-in pattern generator, an external pattern generator is not needed, which greatly reduces the cost of entry to conduct a TV calibration. All that is required for calibration is a meter such as the SpectraCal C6 HDR2000, and Calman color calibration software. Consumers and professionals alike, will now be able to calibrate SDR, HDR10/HLG, and Dolby Vision without the need for an external pattern generator.
Calman support for the 2019 LG OLED and NanoCell TVs will be available at the same time the TVs are released.
To learn more about the 2019 LG OLED and NanoCell TVs, click HERE.
About LG Electronics
LG Electronics was established in 1958 and has since led the way into the advanced digital era thanks to the technological expertise acquired by manufacturing many home appliances such as radios and TVs. LG Electronics has unveiled many new products, applied new technologies in the form of mobile devices and digital TVs in the 21st century and continues to reinforce its status as a global company.
About Portrait Displays
Portrait Displays provides color display solutions that combine the latest in color science with advanced display control. Portrait Displays ensures that color presents beautifully on screens of all sizes – for global device manufacturers, content creators, and content distributors. Only Portrait Displays upholds color quality every step of the way, from the creation of the first frame to its appearance on the screen of any device.
Portrait Displays' Calman color calibration software is the most popular calibration solution utilized by Hollywood's most respected color professionals. Calman color calibration solutions meet the requirements to deliver a superior viewing experience that is just right.
Portrait Displays is headquartered in Pleasanton, CA with offices in Seattle, and a presence across Europe, Taiwan, China, Japan, and Korea. Portrait Displays is an Intel Capital Portfolio company. With decades of experience in color science and display technology, Portrait Displays is taking the lead in inventing a more colorful digital future.
For additional information contact:
Portrait Displays
marketing@portrait.com