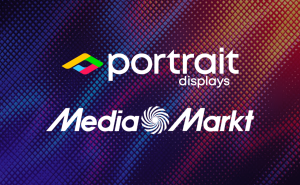 Portrait Displays and MediaMarkt Austria Come Together to Bring TV Calibration Services In-Store Using Calman Color Calibration Software
In partnership with Portrait Displays, MediaMarkt Austria offers customers the opportunity to experience a cinema-grade viewing experience in their own living room by providing professional calibration services for both newly purchased or previously purchased displays. This service can be performed directly in-store or booked for an in-home service.
"We're ecstatic to see our partnership with MediaMarkt develop further and extend into the Austrian region," said Eric Brumm, President & CEO, Portrait Displays. "Portrait Displays and MediaMarkt Austria have put in the work to bring calibrated displays and ultimately, an optimized viewing experience, to MediaMarkt patrons. We can't wait to see how our collaborative efforts with MediaMarkt grows in the future."
To ensure optimal service, MediaMarkt Austria employees go through an extensive training course conducted by Calman experts in order to become Calman certified calibration specialists. Employees that take part in these sessions are knowledgeable about the makes and models of televisions such as LG, Panasonic, Samsung and Sony, all of whom are partners of Portrait Display's Calman Ready™ program. MediaMarkt Austria patrons can now choose the perfect TV to watch their favorite shows and movies with the confidence that the image they watch on-screen is seen exactly as the creator intended.
"With the new TV calibration offering, we are expanding our service portfolio with another component that is precisely in tune with the times. More than ever, our customers want a perfect cinema experience within their own four walls – our professional TV calibration service now makes this possible for everyone! As #1 in the domestic electronics market, MediaMarkt is once again assuming a pioneering role and fulfilling our claim to always offer our customers not only the best products but also the right services and solutions," commented Christoph Dietrich, COO of MediaMarkt Austria.
"MediaMarkt Austria has recently started to offer TV calibration services in all of our markets to meet massive demands. But of course – who doesn't want to get the most out of their TV?", exclaimed Peter Benedet, Head of Services & Solutions, MediaMarkt Austria. "Our employees have been specifically trained to utilize Calman software and can offer professional calibration services in-store or in the convenience of our customers' homes. They will be extremely pleased with the results and view shows and films exactly as the directors intended."
Portrait Displays' color calibration solutions meet the latest technical specifications and international standards to guarantee best-in-class picture quality based on the latest in color science and display technology. Calibration results, whether performed manually or using AutoCal, are consistent across the board and allows the user to enjoy seeing something that is both unprecedented and immersive on-screen. The calibration process perfectly adjusts specific parameters to fit the individual conditions of the TV and its environment for a realistic, premium image on-screen.

For information about MediaMarkt in-store calibrations, click here.
About MediaMarkt Austria
MediaMarkt has been represented in Austria since 1990. With over 60,000 top branded items from the electronics world, fun and leisure time is ensured in Austria's households every day. As the #1 retailer in the Austrian electronics trade, MediaMarkt offers a modern shopping experience with the latest trends from a wide variety of product groups at over 50 locations and online.
The seamless interlinking of the stationary offer with online retail enables a "shopping – how, when and where you want" ideal. MediaMarkt's wide range is supplemented by comprehensive advice and services. A team of specialist advisors are available to customers on site for in-depth and professional advice. In addition to this, trained technicians at our smart bars offer quick and easy solutions for smartphones, tablets, notebooks and PCs. Our wide range of services also includes convenient delivery, assembly and installation services, express delivery within just three hours, Click & Collect option, financing offers, repair services, practical device protection packages and the disposal of old devices.

For more information, visit:
https://www.mediamarkt.at 
About Portrait Displays
Portrait Displays provides color display solutions that combine the latest in color science with advanced display control. Portrait Displays ensures that color presents beautifully on screens of all sizes – for global device manufacturers, content creators, and content distributors. Only Portrait Displays upholds color quality every step of the way, from the creation of the first frame to its appearance on the screen of any device.
Portrait Displays' Calman color calibration software is the most popular calibration solution utilized by Hollywood's most respected color professionals. Calman color calibration solutions meet the requirements to deliver a superior viewing experience that is just right.
Portrait Displays is headquartered in Pleasanton, CA with an office in Edmonds, WA and a presence across Europe, Taiwan, China, Japan, and Korea. Portrait Displays is an Intel Capital Portfolio company. With decades of experience in color science and display technology, Portrait Displays is taking the lead in inventing a more colorful digital future.
For additional information contact:
Portrait Displays
Marketing@portrait.com