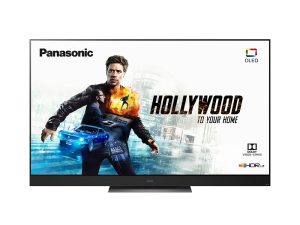 Portrait Displays Announces Calman PatternGen Featured on the 2019 Panasonic GZ2000 OLED TV
Announced this week at CES, Calman PatternGen is a pattern generator built into the 2019 Panasonic GZ2000 OLED TV exclusively accessed with Calman color calibration software. Calman PatternGen directly communicates with Calman software to provide on-screen patterns for color calibration. With Calman PatternGen, the purchase of an expensive external pattern generator is no longer required to calibrate and enjoy a superior viewing experience. This greatly lowers the cost of entry for consumers and professionals alike. All that is required for calibration of the GZ2000 is a meter such as the SpectraCal C6 HDR2000, and Calman color calibration software.
Calibration is the process of fine-tuning the color settings on a television to make the colors more accurate and lifelike, optimizing the video experience and making films, TV shows, and other media match the creator's intent.
"The Panasonic OLED televisions calibrate to an extremely fine level of precision," said Eric Brumm, President and CEO of Portrait Displays. "With the inclusion of Calman PatternGen, the process of adjusting the television to ensure that you're seeing everything it is capable of becomes even easier," Brumm said.
The Panasonic GZ2000 OLED TV is Calman Ready, ensuring a seamless integration with Calman color calibration software. Consumers and professionals can easily perform calibrations utilizing Calman's AutoCal (auto calibration) functionality. In addition to being much faster than manual calibration, AutoCal delivers much more consistent and reliable results.
"We've worked very closely with the Portrait Displays team to ensure that viewers have the best experience possible," said Toshihiro Takagi, Product Planning Manager for Panasonic. "And with Calman PatternGen, the process of getting there is greatly simplified," Takagi said.
Calman AutoCal and Calman PatternGen support for the recently announced Panasonic GZ2000 will be demonstrated for the first time at the Panasonic Convention in Frankfurt Germany in February. The latest Portrait Displays' Calman 2019 software will be available when the Panasonic TVs are released later this year.
To learn more about the Panasonic GZ2000 OLED TV, click HERE.
About Portrait Displays
Portrait Displays provides color display solutions that combine the latest in color science with advanced display control. Portrait Displays ensures that color presents beautifully on screens of all sizes – for global device manufacturers, content creators, and content distributors. Only Portrait Displays upholds color quality every step of the way, from the creation of the first frame to its appearance on the screen of any device.
Portrait Displays' Calman color calibration software is the most popular calibration solution utilized by Hollywood's most respected color professionals. Calman color calibration solutions meet the requirements to deliver a superior viewing experience that is just right.
Portrait Displays is headquartered in Pleasanton, CA with offices in Seattle, and a presence across Europe, Taiwan, China, Japan, and Korea. Portrait Displays is an Intel Capital Portfolio company. With decades of experience in color science and display technology, Portrait Displays is taking the lead in inventing a more colorful digital future.
For additional information contact:
Portrait Displays
marketing@portrait.com