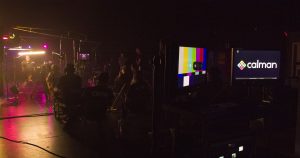 Portrait Displays Announces the Premiere of Color Matters Season 2 in Partnership with Picture Shop
[Pleasanton, CA – September 20, 2023] – Portrait Displays, the global leader in color calibration solutions, released the highly-anticipated premiere of season two of Color Matters, "A Rebel's History of Color in Cinema," the next chapter of its original documentary series. In partnership with Picture Shop, an award-winning post-production company, this season promises to be an immersive journey into the captivating world of color in cinema.
Color Matters is a digital documentary series following the ways Hollywood creatives use color in filmmaking. Season two takes center stage with Picture Shop's Chief Color Scientist, Joshua Pines, and Senior Colorist Maxine Gervais, both legacy color professionals in the industry.
Joshua Pines, a 12-time Academy Award winner, has been a trailblazer in the field of color technology for over four decades. His illustrious career includes pivotal contributions to iconic films like Star Wars, The Revenant, Jurassic Park, and Blade Runner. Maxine Gervais, the first woman to receive a Hollywood Professional Association (HPA) Award in Color, boasts a portfolio of over 50 blockbusters and acclaimed feature films. Her remarkable work spans titles such as Harry Potter and the Goblet of Fire, Black Panther, The Aviator, Alpha, and more.
"We are proud to feature Josh and Maxine in Color Matters. Our collaboration with Portrait Displays is a testament to our shared goals of honoring the creative work of those who bring the content we love to life," said Cara Sheppard, President at Picture Shop.
Season two of Color Matters will include eight episodes, set to release weekly starting in October. Viewers can expect a diverse range of topics, including the history of color in cinema, the personal journeys of Josh and Maxine from childhood to multiple HPA and Academy Awards, the future of color in the industry, and an exclusive long-form master class conversation between the two luminaries themselves.
"In season two, we're not just exploring the science and art of color in cinema; we're celebrating the trailblazers behind it. Josh and Maxine's insights, passion, and mastery of color have elevated the art of filmmaking, and we're privileged to showcase their journeys in this season. We can't wait for viewers to be inspired by the craft that goes into their favorite movies," said Eric Brumm, President & CEO of Portrait Displays.
Color Matters lifts the veil on the intricacies of the post-production process, featuring personal anecdotes from within the Hollywood community to underscore the pivotal role of color in filmmaking. Audiences will gain insights into the technology used to craft and manipulate color to convey powerful narratives, reinforcing the significance of display calibration and precise color reproduction in preserving creative integrity.
Discover why color is indispensable to the film industry. Watch the premiere episode of Color Matters season two here.
For additional information contact:
Portrait Displays
marketing@portrait.com
About Portrait Displays
Portrait Displays is a leading provider of color display solutions that seamlessly blend the latest advancements in color science with cutting-edge display control technology. With an unwavering commitment to preserving color integrity, Portrait Displays ensures that every screen, regardless of its size, delivers captivating and accurate colors. From the initial creation of the first frame to its final appearance on any device, Portrait Displays remains dedicated to upholding the highest standards of color quality throughout the entire visual experience.
Renowned for its industry-leading Calman color calibration software, Portrait Displays has gained widespread recognition and is the preferred choice of the most esteemed color professionals in Hollywood. Calman's robust calibration solutions meet the stringent requirements necessary to deliver an unparalleled viewing experience that is perfectly calibrated.
Headquartered in Pleasanton, CA, with additional offices in Lynnwood, WA, and Taipei, Taiwan, Portrait Displays has established a global presence across Europe, China, Japan, and Korea. With decades of expertise in color science and display technology, Portrait Displays is at the forefront of revolutionizing the digital landscape by introducing a more vibrant and immersive future.