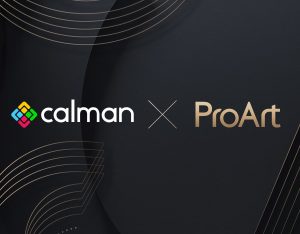 Portrait Displays Collaborates with ASUS to Release ProArt Displays with Calman Ready and Calman Verified Solutions
Portrait Displays' Calman software is celebrated as the leading choice for display calibration by color professionals in broadcast, production, and post-production. Selected ASUS ProArt Displays will now support this software by being either Calman Ready, specifying that the display is equipped with the innate function to communicate directly with Calman software; or Calman Verified, an assurance of impeccable color accuracy right out of the box. 
"The integration of Calman Ready and Calman Verified solutions into ASUS ProArt Displays ensures that all customers enjoy optimized color, whether in their work or for personal use," said Duane Viano, VP of Marketing at Portrait Displays. "We are proud to partner with ASUS to make color accuracy accessible to consumers and creators alike.
The ASUS ProArt brand has unfailingly advanced to support professional workflows in traditional and non-traditional content creation fields since its initial launch in 2011. ProArt Displays can now be considered one of the leading display brands that supports the highly regarded Calman standard. 
Vincent Chiou, Corporate Vice President and General Manager of Display BU, ASUS, remarked, "We appreciate having the opportunity to partner with Portrait Displays and its peerless Calman color-calibration technology. This alliance allows ASUS to guarantee that ProArt Display products meet the highest standards, both straight out of the box and through long-term use. ProArt Displays not only ensure color accuracy and consistency, but also offer solutions with integrated Calman technology – ensuring creators can always have the best viewing experience for every creation." 
For professionals who require absolute precision and control, ASUS ProArt Displays PA32UCX, PA32UCX-P, and PA27UCX are marked as Calman Ready. Calman Ready displays and devices communicate directly with Calman color calibration software, leveraging the fast, accurate, and in many cases, automated, capabilities of Calman. With Calman's AutoCal feature, much of the calibration workflow process is automated and completed by Calman, and very few adjustments are needed by the consumer. In addition to being much faster than a manual calibration, AutoCal delivers much more consistent and reliable results.
Calman Ready ASUS ProArt Displays will be supported in the upcoming release of Calman 2020, with a customized workflow optimized specifically for these devices. 
Calman Verified displays include ASUS ProArt Displays PA248QV and PA278QV. Using Calman verification tools, these products are meticulously tested to fit Portrait Displays' gamut, gamma, color temperature, brightness, and DDC/CI communication standards, and carry a tangible Calman Verified report in their packaging. 
To learn more about ASUS ProArt Displays, please visit the ASUS website. 
Learn more about Portrait Displays' Calman Integrated Solutions Here.
About ASUS
ASUS is a multinational company known for the world's best motherboards, PCs, monitors, graphics cards and routers, and driven to become the most-admired innovative leading technology enterprise. With a global workforce that includes more than 5,000 R&D professionals, ASUS leads the industry through cutting-edge design and innovations made to create the most ubiquitous, intelligent, heartfelt and joyful smart life for everyone. Inspired by the In Search of Incredible brand spirit, ASUS won more than 11 prestigious awards every day in 2018 and ranked as one of Forbes' Global 2000 Top Regarded Companies, Thomson Reuters' Top 100 Global Tech Leaders and Fortune's World's Most Admired Companies.
About Portrait Displays
Portrait Displays provides color display solutions that combine the latest in color science with advanced display control. Portrait Displays ensures that color presents beautifully on screens of all sizes – for global device manufacturers, content creators, and content distributors. Only Portrait Displays upholds color quality every step of the way, from the creation of the first frame to its appearance on the screen of any device. 
Portrait Displays' Calman color calibration software is the most popular calibration solution utilized by Hollywood's most respected color professionals. Calman color calibration solutions meet the requirements to deliver a superior viewing experience that is just right. 
Portrait Displays is headquartered in Pleasanton, CA with an office in Edmonds, WA and a presence across Europe, Taiwan, China, Japan, and Korea. Portrait Displays is an Intel Capital Portfolio company. With decades of experience in color science and display technology, Portrait Displays is taking the lead in inventing a more colorful digital future.
For additional information contact:
Portrait Displays
Marketing@portrait.com