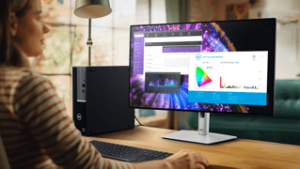 Portrait Displays Develops New Calman Verified Windows and MacOS Certification Solution
Portrait Displays, the global leader in color calibration solutions, is expanding its Calman Verified program and announcing a new and easy-to-use certification process selected by Dell for its UltraSharp displays. 
With this innovative application, select Dell UltraSharp monitors are now Calman Verified, ensuring users experience color accuracy right out of the box.
When using the Dell Color Management (DCM) app, users can swiftly validate or calibrate their Dell UltraSharp monitor connected to a Windows and/or macOS machine. Upon completing the calibration process, users are presented with a comprehensive color calibration report with the Calman Verified logo, ensuring color accuracy for a user to begin their color-critical work.
"After collaborating with Dell Technologies for a decade, we're proud to announce this groundbreaking endeavor, bringing the first-ever Calman Verified Windows and MacOS calibration solution to select Dell UltraSharp monitors. This collaboration exemplifies our dedication to providing users with the most precise and accessible tools for achieving color accuracy. We're setting a new standard for color calibration, empowering users to unlock their creative and professional potential," said Eric Brumm, President & CEO of Portrait Displays.
Dell Color Management supports a variety of colorimeters including Portrait Displays' C6 HDR2000. DCM with Calman Verified is currently available on the following UltraSharp models for both Windows and macOS:
Dell UltraSharp 40 Curved WUHD Monitor – U4021QW

Dell UltraSharp 27 4K USB-C Hub Monitor – U2723QE/U2723QX

Dell UltraSharp 32 4K USB-C Hub Monitor – U3223QE

Dell UltraSharp 32 4K Video Conferencing Monitor – U3223QZ

Dell UltraSharp 34 Curved USB-C Hub Monitor – U3423WE

Dell UltraSharp 38 Curved USB-C Hub Monitor – U3824DW

Dell UltraSharp 49 Curved Monitor – U4924DW

Dell UltraSharp 32 6K Monitor – U3224KB/U3224KBA
For additional information contact:
Portrait Displays
marketing@portrait.com
About Portrait Displays
Portrait Displays is a leading provider of color display solutions that seamlessly blend the latest advancements in color science with cutting-edge display control technology. With an unwavering commitment to preserving color integrity, Portrait Displays ensures that every screen, regardless of its size, delivers captivating and accurate colors. From the initial creation of the first frame to its final appearance on any device, Portrait Displays remains dedicated to upholding the highest standards of color quality throughout the entire visual experience.
Renowned for its industry-leading Calman color calibration software, Portrait Displays has gained widespread recognition and is the preferred choice of the most esteemed color professionals in Hollywood. Calman's robust calibration solutions meet the stringent requirements necessary to deliver an unparalleled viewing experience that is perfectly calibrated.
Headquartered in Pleasanton, CA, with additional offices in Lynnwood, WA, and Taipei, Taiwan, Portrait Displays has established a global presence across Europe, China, Japan, and Korea. With decades of expertise in color science and display technology, Portrait Displays is at the forefront of revolutionizing the digital landscape by introducing a more vibrant and immersive future.