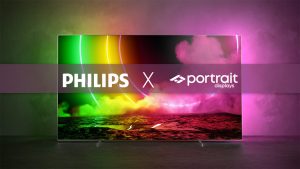 Portrait Displays Forms New Partnership with TP Vision, Introduces Calman Integrated Solutions for New 2021 Philips OLED806/856 and Ambilight 9000 Mini-LED TVs
The collaboration finds Portrait Displays' Calman Ready functionality built into the 2021 Philips OLED 806/856 and Ambilight 9000 mini-LED televisions, giving Philips consumers and retailers alike the ability to perform professional-grade color calibrations with ease.
The Calman Ready capability on the 2021 Philips OLED 806/856 and Ambilight 9000 mini-LED TVsenables direct communication between the display and Calman software, ensuring fine color adjustments and accuracy that meets industry color standards. The software also provides easy access to automated calibration, or AutoCal. This feature warrants exceptional levels of picture quality that is achievable with minimum effort by the user.
"Calman Ready allows consumers to effortlessly utilize Calman color calibration software for optimized color rendition and a viewing experience that is simply unrivaled," says Eric Brumm, President and CEO, Portrait Displays. Additionally, retail partners that provide Portrait Displays Calibration as a Service (CaaS) will be able to auto-calibrate Philips TVs to their patrons. We're excited to work together with TP Vision to bring exceptional picture quality to all."
The new 2021 Philips OLED 806/856 and Ambilight 9000 mini-LED TVs are loaded with additional features, including enhanced AI technology that brings further refinement to picture quality performance on these state-of-the-art models. Other features on the new Philips 5th generation picture processing suite provide film detection, fast motion clarity and anti-burn-in technology.
The latest sets are also comprised of HDMI 2.1 features to offer e-arc; VRR for 4K content from 40Hz to 120Hz at an impressive high speed of 48Gbps; and Freesync Premium Pro and Auto Game mode added to the Auto Latency mode of previous generation TVs.

"The Calman Ready functionality on-board the latest models of Philips OLED and Ambilight TVs gives our users optimized color reproduction with the click of a button," explains Danny Tack, Director of Product Strategy and Planning at TP Vision Belgium. "We're excited to continue on a path to success, now equipped with refined color capabilities provided by Portrait Displays' expertise."
Calman color calibration software will be updated later this year to support the 2021 Philips OLED 806/856 and Ambilight 9000 mini-LED TVs. 
To learn more about the 2021 Philips OLED 806/856 and Ambilight 9000 mini-LED TVs, please click here.
About TP Vision
TP Vision Europe B.V. ('TP Vision') is registered in the Netherlands, with its head office in Amsterdam. TP Vision is a wholly owned company of TPV Technology Limited ('TPV'), which is one of the world's leading monitor and TV manufacturers.
TP Vision is a consumer electronics key player in TV and audio entertainment. TP Vision concentrates on developing, manufacturing and marketing Philips-branded TV sets (Europe, Russia, Middle East, South America, India and selected countries in Asia-Pacific) and Philips-branded audio products (Globally) under trademark license by Koninklijke Philips N.V. We combine the strong Philips brand with our product development and design expertise, operational excellence, and industry footprint of TPV. We believe in creating products that offer a superior audio and visual experience for consumers.
For additional information, visit https://www.tpvision.com/.
About Portrait Displays
Portrait Displays provides color display solutions that combine the latest in color science with advanced display control. Portrait Displays ensures that color presents beautifully on screens of all sizes – for global device manufacturers, content creators, and content distributors. Only Portrait Displays upholds color quality every step of the way, from the creation of the first frame to its appearance on the screen of any device.
Portrait Displays' Calman color calibration software is the most popular calibration solution utilized by Hollywood's most respected color professionals. Calman color calibration solutions meet the requirements to deliver a superior viewing experience that is just right.
Portrait Displays is headquartered in Pleasanton, CA with an office in Edmonds, WA and a presence across Europe, Taiwan, China, Japan, and Korea. Portrait Displays is an Intel Capital Portfolio company. With decades of experience in color science and display technology, Portrait Displays is taking the lead in inventing a more colorful digital future.
For additional information contact:
Portrait Displays
Marketing@portrait.com