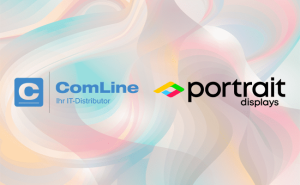 Portrait Displays Introduces ComLine as Distributor in Europe
For more than 27 years, ComLine has been a primary provider of innovative audio, visual, and IT products in the DACH Region, eastern Europe, and France, working to raise the cooperation between resellers, distributors and manufacturers, including a number of Portrait Displays' partners.
ComLine combines a high degree of professional expertise and market knowledge to generate sustainable business that will be of value in our ever-dynamic industry. "Portrait Displays is a perfect fit in our value set-up," said ComLine Managing Director, Richard Gäbel, in relation to the partnership. "I think we can propel the calibration business with our indepth knowledge and excellent contacts with resellers in the European region."

Designed for a wide variety of color professionals – including content distributors, display and device manufacturers, and those in broadcast, production, and post-production – Portrait Displays' solutions are considered the most popular color calibration tools across the board. These tools, such as the popular Calman software, are made specifically to support the creative process and assure studio-quality color accuracy every step of the way. 

"Portrait Displays is excited to build a strong foundation in Europe through our partnership with ComLine," said Marcel Gonska, Director of Business Development, EMEA. "We value their commitment to serving the European market with cutting-edge products and look forward to meeting the needs of all color professionals. Together, we can assure world-class color accuracy for consumers across the globe."

As display capabilities advance, Portrait Displays will ensure that ComLine will have the latest innovative products in color calibration available to our customers through the European channel.

About ComLine
ComLine GmbH, based in Flensburg, Germany, was founded in 1992 as an IT distributor with special focus on the creative AV and Mac market. Today, ComLine offers its manufacturers excellent marketing and channel strategies all over Europe.

In addition to the reliable and fast logistics services that are vital for success in today's IT business, ComLine offers resellers software cloud services, renewal management, CRM service, deployment for mobile devices, and, of course, personalized CTO configurations. German resellers have once again voted ComLine one of the best wholesalers (CRN Excellent Distributor 2020). Learn more about ComLine Here.
About Portrait Displays
Portrait Displays provides color display solutions that combine the latest in color science with advanced display control. Portrait Displays ensures that color presents beautifully on screens of all sizes – for global device manufacturers, content creators, and content distributors. Only Portrait Displays upholds color quality every step of the way, from the creation of the first frame to its appearance on the screen of any device.

Portrait Displays' Calman color calibration software is the most popular calibration solution utilized by Hollywood's most respected color professionals. Calman color calibration solutions meet the requirements to deliver a superior viewing experience that is just right.

Portrait Displays is headquartered in Pleasanton, CA with an office in Edmonds, WA and a presence across Europe, Taiwan, China, Japan, and Korea. Portrait Displays is an Intel Capital Portfolio company. With decades of experience in color science and display technology, Portrait Displays is taking the lead in inventing a more colorful digital future.
For additional information contact:
Portrait Displays
Marketing@portrait.com