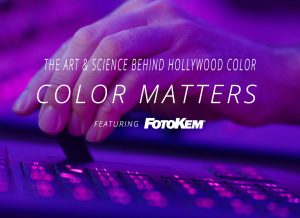 Portrait Displays Presents Cinematic Miniseries 'Color Matters'
COLOR MATTERS is Portrait Displays' first epic production that investigates how Hollywood creatives use color as a part of their creative storytelling process through documentary-style interviews. Audiences are taken on a bold journey alongside FotoKem's principal color scientist, Joseph Slomka, and leading next-generation Hollywood colorist, Alastor Arnold (The Green Knight, Red Rocket, Barb & Star), two renowned professionals that have worked on celebrated projects with FotoKem's team of Senior Colorists, whose credits include Star Wars: The Last Jedi, Dunkirk, Knives Out, Dune, and many more.
"The art of color correction is often understated and overlooked by audiences. When Portrait Displays came to us with the idea of a series that explains the power of color correction and its impact on the storytelling process, we were thrilled to participate," explained Tom Vice, Co-Chief Operations Officer, FotoKem. "The creative teams that we work with expect color precise imagery from production through delivery. We rely on tools created by Portrait Displays to ensure this quality," he continued. "FotoKem prides itself in faithfully representing our creative partners color intent and we hope that audiences gain an appreciation for this unique art form through COLOR MATTERS."
Portrait Displays teamed up with San Francisco-based production companies Cinedocs and Alumiere to create the four-episode UHD/HDR program that thrusts colorists and color scientists into the spotlight. Shot in the world-famous Popsicle Studio (Batman: The Dark Knight, Ghost in the Shell), these unsung heroes of major blockbuster productions are given the opportunity to give an inside look on how they define and create the unparalleled looks and moods of jaw dropping, award winning motion pictures.

COLOR MATTERS uncovers vital truths about the post-production process and includes personal accounts from within the Hollywood community to illustrate the importance of color preservation over the collaborative filmmaking process. Viewers will learn about the technology used to develop and manipulate color to tell emotional stories and ultimately underline the significance of display calibration and accurate color reproduction when upholding creative integrity.
"Portrait Displays understands the meaning of color accuracy to creative professionals like no other," commented Eric Brumm, President & CEO, Portrait Displays. "We are very enthusiastic to release our first cinematic production with support from FotoKem. Taking on this project has been a rewarding journey and allows Portrait Displays to educate the masses on a topic that is near and dear to us. We appreciate the opportunity to give insight into conservation of creative intent."

Learn why color is so important in film production. The first episode of COLOR MATTERS premieres on February 2, 2022, on the Portrait Displays YouTube channel.
About FotoKem
Since 1963, Fotokem has been a place to call home for directors, studios, cinematographers, experimentalists, and nearly every type of filmmaker in between. With over 50 years of collaboration with some of the film industry's boldest and most brilliant artists, FotoKem has been a crossroads for almost anybody that has been involved in motion picture production.

Bridging the gap between technology and creativity, FotoKem provides digital finishing, dailies, color, audio, visual effects, restoration, and is the world's largest full-service motion picture film laboratory.

For additional information contact:
https://fotokem.com/#/contact
About Portrait Displays
Portrait Displays provides color display solutions that combine the latest in color science with advanced display control. Portrait Displays ensures that color presents beautifully on screens of all sizes – for global device manufacturers, content creators, and content distributors. Only Portrait Displays upholds color quality every step of the way, from the creation of the first frame to its appearance on the screen of any device.
Portrait Displays' Calman color calibration software is the most popular calibration solution utilized by Hollywood's most respected color professionals. Calman color calibration solutions meet the requirements to deliver a superior viewing experience that is just right.
Portrait Displays is headquartered in Pleasanton, CA with an office in Edmonds, WA and a presence across Europe, Taiwan, China, Japan, and Korea. With decades of experience in color science and display technology, Portrait Displays is taking the lead in inventing a more colorful digital future.
For additional information contact:
Portrait Displays
Marketing@portrait.com