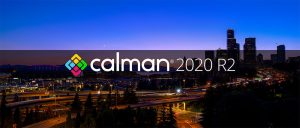 Portrait Displays Releases Calman 2020 R2 Color Calibration Software
Calman color calibration software is recognized across the content creation industry as the foremost software for color accuracy, designed to make the jobs of color professionals easier by streamlining calibration methods, providing verification tools, and supporting new developments in display technology. The latest release of Calman possesses a number of new features and updated hardware support, once again raising the bar for color calibration software.
Hardware support has expanded to include the latest Samsung TVs (UHD QLED and 8K QLED models); BenQ SW271C; Dell UP3221Q monitors; LG projectors (HU810 and AU810); Avical Patterns, a macOS pattern generator application; Gamma Scientific GS-1160B spectroradiometers; and ASUS-branded i1Display Pro colorimeters.
Calman 2020 R2 users will find added shadow detail adjustment for supported 2020 LG OLEDs. This highlighted feature will create a spline adjustment before the first reading point in grayscale, improving detail in dark regions of the display and preventing blacks from crushing too early. To learn more, please consult the LG 2020 Shadow Detail Control tutorial.
All-In-One (AIO) mode – a measurement mode in i1Display Pro meters – is now compatible across all license levels. AIO mode will improve measurement time and accuracy by creating sync times that are variable based on the patch to be measured.
Additionally, Calman 2020 R2 contains an Interquartile Averaging Noise Reduction (IQNR) option to Klein Instruments K10A. This preference improves meter accuracy, takes multiple readings and intelligently averages out the reads while removing outliers. It is important to note that this is a Calman option, and not firmware enabled.
Calman 2020 R2 is available for download now with included release notes for each license level. To purchase or learn more about Calman, please click here or contact sales@portrait.com.
To update to Calman 2020 R2 via All Access click here.
About Portrait Displays
Portrait Displays provides color display solutions that combine the latest in color science with advanced display control. Portrait Displays ensures that color presents beautifully on screens of all sizes – for global device manufacturers, content creators, and content distributors. Only Portrait Displays upholds color quality every step of the way, from the creation of the first frame to its appearance on the screen of any device.
Portrait Displays' Calman color calibration software is the most popular calibration solution utilized by Hollywood's most respected color professionals. Calman color calibration solutions meet the requirements to deliver a superior viewing experience that is just right.
Portrait Displays is headquartered in Pleasanton, CA with an office in Edmonds, WA and a presence across Europe, Taiwan, China, Japan, and Korea. Portrait Displays is an Intel Capital Portfolio company. With decades of experience in color science and display technology, Portrait Displays is taking the lead in inventing a more colorful digital future.
For additional information contact:
Portrait Displays, Inc.
marketing@portrait.com