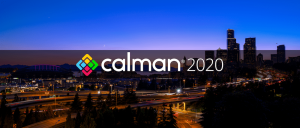 Portrait Displays Releases Calman 2020 Software
Portrait Displays' Calman color calibration solutions are largely recognized by color professionals across the globe as the foremost software to ensure that content is accurately displayed across all screens. Calman is designed to make the users' job easier by streamlining calibration methods and providing consistent updates with the latest features.
Calman 2020 boasts a number of new features, including Calman Ready AutoCal support for LG 2020 Series TVs, Panasonic 2020 HZ Series TVs, and ASUS ProArt Monitors; added support for Murideo SEVEN Generator; added support for IP-based communication for Samsung 2019 Series TVs; and added support for the X-Rite i1Pro3 and i1Display Pro Plus measurement devices.
Among one of the key highlights of Calman 2020 is the introduction of the new 'Bodner' meter profiling method for TVs that utilize RGBW-based OLED Panels. The Bodner Method, created by LG Electronics, provides increased accuracy when profiling colorimeters on 48"-88" WRGB OLED display devices.
"Calman 2020 is the first and only calibration software of its kind to include this method," explained Portrait Displays Technical Evangelist, Tyler Pruitt. "Color professionals and enthusiasts that apply this method will see even more precise calibrations on WRGB OLED devices as a result."
Users will also notice the new Calman branding and logo presented within Calman 2020. The update to the Calman brand reinforces our commitment to leading the industry with the widest-array of supported hardware, and the most-robust color calibration workflows found in any color calibration software.
Calman 2020 is available for download now. To purchase or learn more about Calman, please click here or contact sales@portrait.com.
To update to Calman 2020 via All Access click here.
About Portrait Displays
Portrait Displays provides color display solutions that combine the latest in color science with advanced display control. Portrait Displays ensures that color presents beautifully on screens of all sizes – for global device manufacturers, content creators, and content distributors. Only Portrait Displays upholds color quality every step of the way, from the creation of the first frame to its appearance on the screen of any device.

Portrait Displays' Calman color calibration software is the most popular calibration solution utilized by Hollywood's most respected color professionals. Calman color calibration solutions meet the requirements to deliver a superior viewing experience that is just right.

Portrait Displays is headquartered in Pleasanton, CA with an office in Edmonds, WA and a presence across Europe, Taiwan, China, Japan, and Korea. Portrait Displays is an Intel Capital Portfolio company. With decades of experience in color science and display technology, Portrait Displays is taking the lead in inventing a more colorful digital future.
For additional information contact:
Portrait Displays
Marketing@portrait.com