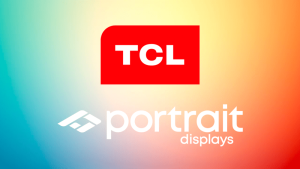 Portrait Displays & TCL Europe Deliver Elevated TV Experience with New Calman Ready C72+ and C82 TVs
Time after time, TCL has reinforced its leading position in the global consumer electronics industry by introducing state-of-the-art technologies to market. Their products are always designed to deliver a comprehensive range of entertainment and exceptional audio-visual performance. The latest TCL C72+ and C82 TVs are held to this same standard, producing genuine, cinematic picture quality with Quantum Dot and MiniLED technology for greater overall depth, detail, and dimension.
TCL C72+ and C82 TVs have been developed to be Calman Ready. The displays are integrated with the power to communicate directly with Portrait Displays' renowned Calman software and the capabilities to perform quick, precise, and automated calibrations. Calman users will have access to customized workflows and the revolutionary Aurora Color Engine to ensure that their TCL display produces optimized image quality for long-term use.
The TCL C72+ and C82 TVs will also give consumers the option to utilize Calman's AutoCal feature, in which the calibration workflow process is pre-programmed. AutoCal is not only much faster but delivers consistent and reliable results.
"Thanks to Portrait Displays' leading auto-calibration software and 17x17x17 3D LUT, our 2021 premium LCD TV sets can fully utilize the calibration capabilities for Dolby Vision, HDR10+, HDR10, HLG, and SDR formats. Now, up to 4934 calibration points can be used to help professional calibrators and consumers quickly enjoy on-screen images with little color error," said Marek Maciejewski, Product Development Director, Europe, TCL.
"By integrating Calman Ready with the new QLED TV C72+ Series and MiniLED TV C82 Series, calibration is made into an easy, consistent, and automated experience for customers around the globe," said Eric Brumm, President & CEO, Portrait Displays. "We're looking forward to putting Calman in living rooms and studios alongside TCL's remarkable products."
Calman Ready TCL C72+ and C82 TVs will be supported in an upcoming Calman 2021 software update.
To learn more about the TCL C72+ and C82 TVs, click here.
To learn more about Portrait Displays' Calman Integrated Solutions, click here.
About TCL Electronics
TCL Electronics (1070.HK) is a fast-growing consumer electronics company and a leading player in the global TV industry. Founded in 1981, it now operates in over 160 markets globally. According to OMDIA, TCL ranked global No.2 in TCL brand TV market share in Q2 2020. TCL specializes in the research, development and manufacturing of consumer electronics products ranging from TVs, audio and smart home appliances.
For more information visit:
https://www.tcl.com/eu/en
About Portrait Displays
Portrait Displays provides color display solutions that combine the latest in color science with advanced display control. Portrait Displays ensures that color presents beautifully on screens of all sizes – for global device manufacturers, content creators, and content distributors. Only Portrait Displays upholds color quality every step of the way, from the creation of the first frame to its appearance on the screen of any device.
Portrait Displays' Calman color calibration software is the most popular calibration solution utilized by Hollywood's most respected color professionals. Calman color calibration solutions meet the requirements to deliver a superior viewing experience that is just right.
Portrait Displays is headquartered in Pleasanton, CA with an office in Edmonds, WA and a presence across Europe, Taiwan, China, Japan, and Korea. With decades of experience in color science and display technology, Portrait Displays is taking the lead in inventing a more colorful digital future.
For additional information contact:
Portrait Displays
Marketing@portrait.com