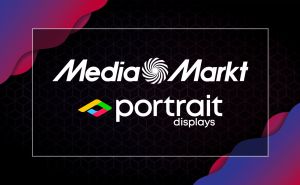 Portrait Displays Teams with MediaMarkt and Saturn to Offer Professional TV Calibration Services In-Store Using Calman Color Calibration Software
Customers across Germany can experience blockbuster-worthy pictures in their own home with the introduction of MediaMarkt and Saturn's new TV calibration service. Over 400 locations offer a 99-euro in-store calibration, performed by a trained professional, with the purchase of a new TV.

MediaMarkt and Saturn employees go through extensive training courses conducted by Calman experts in order to become Calman certified calibration specialists. Employees that take part in these sessions are knowledgeable about the makes and models of televisions such as LG, Panasonic, Samsung and Sony, all of whom are partners of Portrait Display's Calman Ready™ program. MediaMarkt and Saturn patrons can now choose the perfect TV to watch their favorite shows and movies with the confidence that the image they watch on-screen is seen exactly as the creator intended.

Portrait Displays' color calibration solutions meet the latest technical specifications and international standards to guarantee best-in-class picture quality based on the latest in color science and display technology. Calibration results, whether performed manually or using AutoCal, are consistent across the board and allows the user to enjoy seeing something that is both unprecedented and immersive on-screen.

"Calman is recognized across Hollywood and the content creation industry as the go-to color calibration software when producing, editing, and watching content," explained Portrait Displays President and CEO, Eric Brumm. "We are pleased to have partnered with MediaMarkt and Saturn to bring this elevated color experience to Germany and have worked hard to ensure that customers will enjoy an incomparable lens to living room viewing experience."
About MediaMarktSaturn Germany
MediaMarktSaturn Germany is the number one electronics retailer in Germany with 425 Media and Saturn stores and more than 23,000 employees. With the two strong brands MediaMarkt and Saturn, it stands for a comprehensive, always up-to-date range of branded products and own brands, top advice and an extensive portfolio of services – anytime and anywhere. Because in terms of its multichannel approach, MediaMarktSaturn Germany closely networks the stationary markets with its online shops mediamarkt.de and saturn.de as well as with the mobile shopping apps. Customers benefit from the advantages of online shopping as well as from personal advice and services in the local markets. MediaMarktSaturn Germany is part of the MediaMarktSaturn Retail Group, which in turn is majority owned by CECONOMY AG.
About MediaMarkt
MediaMarkt, Germany's and Europe's number one electronics retailer, was founded in 1979 and is now run as an independent sales brand within the MediaMarktSaturn Retail Group. In Germany, the company is currently represented in 275 stores and employs more than 15,000 people. MediaMarkt is present across Europe in 13 countries at more than 850 locations and around 45,000 employees. MediaMarkt consistently lives its brand essence "pleasure" – with the range, the price, the customer advice and the service. Declared goal: MediaMarkt will become the most enjoyable place for consumer electronics for customers – always and everywhere. In addition to a constantly updated range of branded products at permanently low prices, the recipe for success also includes personal advice and an extensive portfolio of services. MediaMarkt has positioned itself as a successful multichannel provider and thus combines the advantages of stationary and online retail under the umbrella of a trusted brand.

About Saturn
Saturn turns technology into an experience for its customers and shows how modern technology products can enrich their lives. Founded in 1961, Saturn is now run as an independent sales brand under the umbrella of the MediaMarktSaturn Retail Group – Europe's number one in electronics retail. Saturn is represented in around 150 stores in Germany and employs around 8,000 people. There are around 170 Saturn stores in total in three European countries. Saturn stores are characterized by their attractive location, their wide range of branded products with an attractive price-performance ratio, generous sales areas and excellent service and advice. Saturn closely networks the stationary business in Germany with its online shop at www.saturn.de and mobile shopping via app. As part of this multichannel strategy, Saturn customers benefit from the advantages of online shopping as well as from personal advice and services in the local stores.

More information at
www.mediamarktsaturn.com
www.mediamarkt.de
www.saturn.de
About Portrait Displays
Portrait Displays provides color display solutions that combine the latest in color science with advanced display control. Portrait Displays ensures that color presents beautifully on screens of all sizes – for global device manufacturers, content creators, and content distributors. Only Portrait Displays upholds color quality every step of the way, from the creation of the first frame to its appearance on the screen of any device.
Portrait Displays' Calman color calibration software is the most popular calibration solution utilized by Hollywood's most respected color professionals. Calman color calibration solutions meet the requirements to deliver a superior viewing experience that is just right.
Portrait Displays is headquartered in Pleasanton, CA with an office in Edmonds, WA and a presence across Europe, Taiwan, China, Japan, and Korea. Portrait Displays is an Intel Capital Portfolio company. With decades of experience in color science and display technology, Portrait Displays is taking the lead in inventing a more colorful digital future.
For additional information contact:
Portrait Displays
Marketing@portrait.com