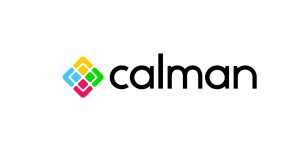 Say Hello to the New Look of Calman®
Along with a new company logo, a new website was launched that included all of Portrait Displays' color calibration and display control solutions.
Today, we are excited to share a branding update to our industry-leading color calibration software, Calman. The new Calman logo embodies many aspects of the Portrait Displays logo, such as the colors and curves. The addition of straight lines and a symmetrical form factor represents the accuracy of Calman software.

Consumers will see the new Calman branding rolled out in the release of Calman 2020 color calibration software. Updating the Calman brand reinforces our commitment to leading the industry with the widest-array of supported hardware, and the most-robust color calibration workflows found in any color calibration software. As display technology advances, consumers can trust that Calman software will lead with innovation.
Backed by a dedicated group of software engineers and color scientists, we continue to invest heavily in the development of Calman software, promotion of the Calman brand, and our Integrated Solutions programs: Calman Verified, Calman Ready, and Calman Powered.
Our team is excited about this update to the Calman branding. I encourage you to reach out to us at marketing@portrait.com with any questions you may have about this update.
Respectfully,
Duane Viano
VP of Marketing
Portrait Displays