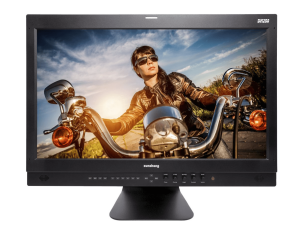 Shenzhen Zunzheng Digital Video Co., Ltd Named Calman Distributor in China
Since 2004, Shenzhen Zunzheng Digital Video Company has distributed a range of premier products for the professional video market, particularly their line of video reference monitors. Portrait's Calman video display calibration software offers close integration with the Zunzheng monitors.
Portrait's Calman software is the leading image fidelity solution in the home theater, commercial A/V, medical imaging, geospatial intelligence, broadcast, production, and post-production industries.
"We're pleased to add Portrait Displays' universally respected solutions to our lineup," said Zunzheng, the company's namesake, founder and CEO. "Portrait's calibration products perfectly complement our monitors, and also provide excellent calibration support for monitors from many of the other manufacturers as well," Zunzheng said.
Portrait praised Zunzheng's commitment to picture quality. "We've been especially impressed with the way Zunzheng is leading educational efforts to bring advanced picture quality standards to this rapidly growing market," said Martin Fishman, Co-CEO of Portrait Displays.
In 2017, Zunzheng was instrumental in establishing the Gaiamount Film Science and Arts Academy, dedicated to film and television workflow solutions and education. Zunzheng established cooperation with the internationally prominent education facility Mixing Light, integrating Mixing Light's color grading education resources with the Gaiamount academy, and bringing internationally cutting-edge technology and experience closer to Chinese audiences.
Portrait Displays' display calibration products, now available through Zunzheng's reseller channel, provide video accuracy for critical viewing environments. Calman Studio generates 3D LUTs for studio reference monitors. The software works with a wide variety of color measurement devices, and is also available bundled with the company's SpectraCal C6 HDR2000 colorimeter.
When discussing the values of the collaboration between Portrait and Zunzheng, Bram Desmet, CEO of Zunzheng's global partner Flanders Scientific explained, "Professional video monitoring demands proper display calibration. Calman addresses this industry need with a very versatile solution for both display setup and verification."
The importance of display calibration and the power of Calman are being demonstrated this week in Zunzheng's booth at BIRTV in Beijing.
Portrait Displays is the world's leading vendor of video calibration software. Portrait's Calman software is the video calibration solution chosen by nearly every professional video calibrator, and by most end users in broadcast, production, and post-production, as well as the most popular solution for home video enthusiasts.
About Shenzhen Zunzheng Digital Video Co., Ltd
Shenzhen Zunzheng Digital Video Co., Ltd. is a professional color management expert in film and television industry, with business ranging from research & development of broadcast monitors and real-time color grading monitors, to on-site and post-production workflow solutions and industry education.
Founded in 2004, Zunzheng is dedicated to the success of the video industry, always adhering to the technology-based, down-to-earth development concept.
About Portrait Displays
Portrait Displays provides color display solutions that combine the latest in color science with advanced display control. Portrait Displays ensures that color presents beautifully on screens of all sizes – for global device manufacturers, content creators, and content distributors. Only Portrait Displays upholds color quality every step of the way, from the creation of the first frame to its appearance on the screen of any device.
Portrait Displays' Calman color calibration software is the most popular calibration solution utilized by Hollywood's most respected color professionals. Calman color calibration solutions meet the requirements to deliver a superior viewing experience that is just right.
Portrait Displays is headquartered in Pleasanton, CA with offices in Seattle, and a presence across Europe, Taiwan, China, Japan, and Korea. Portrait Displays is an Intel Capital Portfolio company. With decades of experience in color science and display technology, Portrait Displays is taking the lead in inventing a more colorful digital future.
For additional information contact:
Portrait Displays
marketing@portrait.com