The internal pattern generator can be used to calibrate the LG 2020 OLED, QNED and NanoCell LCD TVs in SDR, HDR, and Dolby Vision modes.
Calman Compatible LG TV
2023

Alpha 7 G6 OLED
Alpha 7 G6 LCD

QNED80, QNED80UQA, QNED90, NANO85, NANO90, NANO91

Alpha 9 G6 OLED
Alpha 9 G6 LCD

2022

Alpha 7 G5 OLED
Alpha 7 G5 LCD
Alpha 9 G5 OLED
Alpha 9 G5 LCD

2021

Alpha 9 Gen 4

OLED
LCD

QNED99, QNED95, NANO99, NANO95
2020

Alpha 9 Gen 3

OLED
LCD

NANO99, NANO097, NANO095,

Alpha 7 G3
To use the internal pattern generator, you need to put the display into the appropriate SDR/HDR/Dolby Vision mode. Display content in the target format on the active input to put the display into SDR/HDR/Dolby Vision mode. This can be done by using an HDR10 or Dolby Vision Blu Ray disc, or by using the gray screen media files below.
Right-click and choose "Save As" to download the grey screen media files from the links below…
Chrome Users: If you experience download errors, at the top right, click More

Downloads and choose to Keep the downloaded file.
This content can be loaded onto a USB drive and played directly on the TV using the built-in media player.
---
To Connect to the LG Internal Pattern Generator:
Connect to your LG TV
Connect the Calman computer to the same network to which the LG TV is connected.
Under Menu\Network\ note the IP address.
On the Source Settings tab, click the Find Source button
On the Find Source dialog, Choose LG
Enter your TV's IP Address into the connection dialog box, and click Connect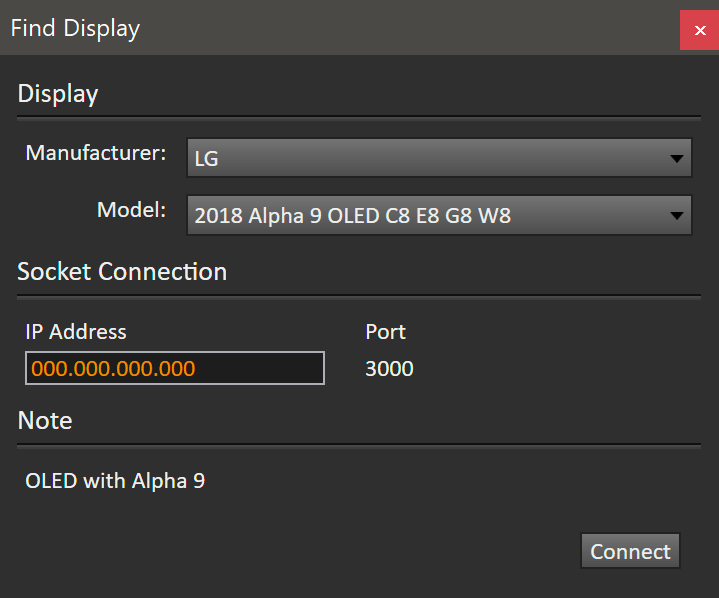 7. When prompted, enter the 8 digit passcode displayed on the TV (Note: This step will not occur if you have already connected to the TV as a Display)