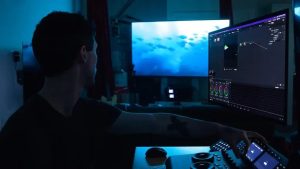 Cullen Kelly's Color Grading Philosophy
In the world of film and television, color grading plays a crucial role in shaping the look and feel of a production. It involves manipulating the colors and tones of a visual image to achieve a specific aesthetic or mood. It's an art form that requires a great deal of skill and experience, and few people are as accomplished in this field as Cullen Kelly.
Working on some of the biggest brands in the world, as well as Academy Award-nominated films and acclaimed series for Netflix and HBO, Kelly has established himself as a thought leader in the color grading field. His passion for color grading extends beyond just his own work. He is a master trainer for Blackmagic Design, a leading manufacturer of professional video equipment, and a consultant for top colorists and post-production facilities worldwide, helping to train the next generation of colorists to push the boundaries of what's possible in this field.
In a recent episode of Portrait Display's podcast Creators in Motion, Kelly discusses his approach to color grading and what sets him apart from other professionals in the industry. For Kelly, the goal is always to protect and elevate the creative vision of the filmmaker. He believes that color grading should never distract from the story being told, rather enhancing it and drawing the viewer deeper into the world of the film.
"I'm a creative advocate," Kelly says. "That's my role in the creative process is to advocate in a really skilled way for the filmmaker, for the image author. It's not my image. I didn't design. I didn't create the image. My role is to advocate for them with my expertise…build up a foundation of really understanding how it is that this magic trick of image caption reproduction works."
One of Kelly's key strengths as a colorist is his ability to speak the filmmaker's creative language. He understands that every director and cinematographer has a unique vision for their project, and his job is to translate that vision into a visual language that the audience can understand and connect with emotionally. This requires a deep understanding of color theory, meticulous attention to detail, and a keen sense of intuition and empathy to ensure that every aspect of the image looks its best.
Interested in learning more about Kelly and his approach to color grading? Watch his episode of Creators in Motion.