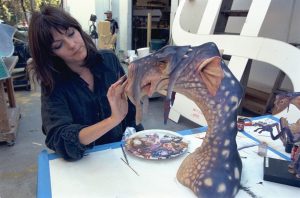 Jean Bolte Reflects on Her Career at Industrial Light & Magic
Jean Bolte has made significant contributions to the film industry throughout her career. Before her time at Industrial Light & Magic (ILM), Bolte led a small effects company in London, where she established a reputation for creating realistic animal models, costumes, and make-up for both American and British television and film.
After working in theater in London, her journey with ILM began in 1987, when she worked as a model maker on the "transformation sequence" in the movie Willow. This project marked the beginning of her pioneering work with ILM's "morph" technology.
Over the years, Bolte has played a significant role in some of the most iconic movies of our time. She became a Model Project Supervisor for ILM's model and creature shop in 1992 and went on to work as a Texture Supervisor on movies such as the Star Wars prequels, Men In Black, Iron Man, and Pacific Rim. Her most recent work can be seen in Martin Scorsese's The Irishman and Indiana Jones and the Dial of Destiny, where she contributed to the innovative de-aging techniques used on the leading men.
Despite her many accomplishments, Bolte remains passionate about integrating traditional methods of art into her work. She is known for taking inspiration from the natural world and has been a vocal advocate for the continued growth of women in the field. Her contributions to the industry have not gone unnoticed, as evidenced by her many awards and nominations, including a Visual Effects Society Award for her work on Deepwater Horizon (2016).
"Our business has become more competitive and more intense… There's a constant sense of you have to do it bigger and faster…of course, there's gonna be more and more pressure on people working in all aspects of the film business," Bolte shares. "One of my hopes is that something will happen to give the workers a little bit more of a breathing room"
Jean Bolte's career has been marked by innovation, creativity, and a commitment to excellence. Her contributions to the film industry have been significant, and her legacy will continue to influence the field for years to come. Watch Jean Bolte's full interview on Creators In Motion to learn more.