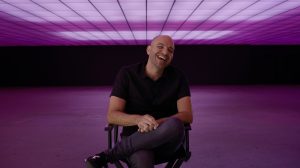 Why Color Matters to Alastor Arnold
Meet Alastor Arnold, the Hollywood colorist who is revolutionizing the art of color grading in the entertainment industry. With over 25 years of experience in the field, Arnold has established himself as a senior colorist at FotoKem, a renowned post-production facility situated in the heart of Hollywood.
Arnold's impressive portfolio spans both higher budget and indie films including Palo Alto, The Green Knight, Red Rocket, Dayshift, and Swarm. In 2021, his talent was recognized by the Hollywood Professional Association when he was nominated for Outstanding Color Grading of a Theatrical Feature for his work on The Green Knight. 
His varied skill set ranges from VI based VFX to studio marketing, having worked in the lab, telecine, QC, conform, and color. His approach to his craft is firmly rooted in artistic intuition and instinct. To Alastor, the art of film color goes beyond mere aesthetics; it serves as a means to evoke emotions and captivate audiences, ensuring that each frame contributes to the film's overall voice.
"People watch movies to feel things and everybody should know that color helps you feel things. If you're not getting the right color, you might not be feeling the right things," Arnold explains. "Color matters because it imparts emotion. The whole point of a movie is to manipulate your emotions."
Alastor is an active member of both the Television Academy and the Visual Effects Society (VES). In 2022, he co-starred in Color Matters, a digital documentary series by Portrait Displays about the art and science of Hollywood color, alongside Joseph Slomka.
Watch Color Matters to learn more about Alastor's creative process and go behind-the-scenes of A24's The Green Knight and Red Rocket.